Before I became a journalist and a writer, I lived a different life. Here's the evidence.
SINGLE MALT, my jazz album, was first released in the fall of 1980 – on vinyl, of course.
It's available again, 33 years later, now in digital format (click here to buy and download from CDBaby.) Single Malt is also available on iTunes and other digital retailers.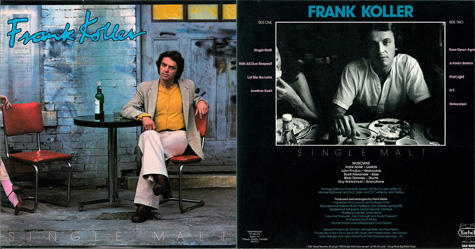 This is an instrumental  pop-jazz album: I wrote almost all the tunes and played all the guitar parts. The music grew out of my love of jazz and rhythm& blues and funk, inspired by great musicians such as David Sanborn, Larry Carlton, The Crusaders, Richard Tee, James Jamerson and Amos Garrett.
The Globe and Mail's nationally influential jazz critic Mark Miller loved SINGLE MALT, arguing that I shared "the local guitar hero roles in Ottawa with Roddy Ellias." (33 years later, Rod tenaciously – and deservedly – still completely owns that label!)  Praise rolled in from newspapers and magazines across the country, in English and French. Canadian Musician called the album "delightful" and described me as "a session man extraordinaire  .. up there with Larry Carlton, David Spinoza and Eric Gale." Quebec Rock said the recording was "brilliant" while the St. John Evening Telegram's verdict was "superb."
And it sold well too!
When SINGLE MALT was released, I was a working musician, leading my own band while also working with many well-known Canadian  performers including Ian Tamblyn, David Wiffen, Colleen Peterson and Sneezy Waters. As a session guitarist, I backed an amazing range of artists passing through Ottawa … from Tom Jones to Sonny Stitt to Engelbert Humperdinck to Broadway road shows to Bobby Vee and once, Roy Rogers and Dale Evans! . And while all that was going on, I also composed and arranged music for several CBC radio and TV shows and an NFB film.
For three years, I was the music director of the wonderful Canada Day July 1st shows on Parliament Hill, leading a large band in front of crowds reaching 100,000 and broadcast live across the country. Those shows were wild ….. the Canadian Brass followed by Rene Simard, straight into Winnipeg's BukHta Ukrainian Dancers, then Anne Murray and finally, two guys on spoons from Trois Rivieres. Topped off by the fireworks above the Parliament Buildings.
Truth be told, I also did my share of radio commercials for local used car dealers. All in all, it was a gas.
The musicians playing on this album were the best in the city. It was a joy working with them in the studio and you'll hear some great playing on every song.
Scott Alexander, remains one of Canada's most-respected bass players.
John Findlay, on keyboards, is now a well-known guitarist in Toronto. A player!
Brian Downey, on drums and laughter, introduced many musicians in Ottawa to funk and still plays around town.
Guy Robichaud, on alto sax, was always filled with energy in the studio and now teaches music.
So click here below to download a few tunes or the whole CD, pour yourself a Single Malt whiskey (that's a bottle of Talisker on the cover,) sit back, and  have a listen.
Enjoy!